Conservation
PRIVATE CONSERVATION AREA
As part of its work to conserve biological diversity, Tambopata Ecolodge has set aside its privately-owned land for conservation. In 2009, this process was consolidated through the georeferencing of surrounding lands, in order to determine their precise coordinates.
Following a long process, on October 20th 2016 Peru's Ministry of the Environment officially recognized Tambopata Ecolodge as a Private Conservation Area. Covering 1065 hectares, it is the largest protected natural area in its category.
ECOLODGE CERTIFICATION
For us, the term "eco-" is not a marketing tool to attract visitors. We are officially certified as an Ecolodge by the Peruvian government and acknowledged as a genuinely responsible company fully committed to the conservation of rainforests that exist because we exist.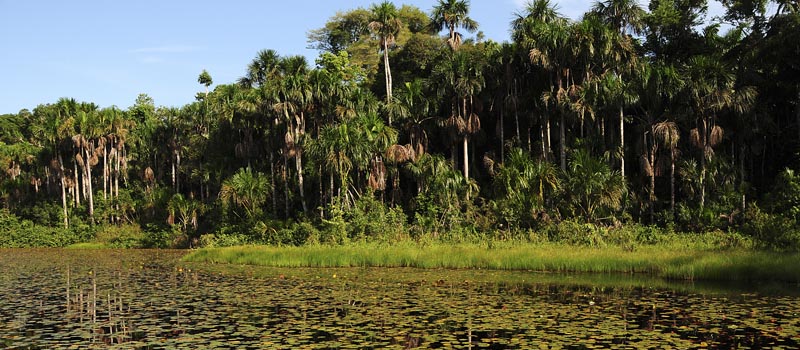 What your rainforest visit means
In Peru it is ecotourism that has made it possible to create protected areas and save the forests of the Amazon basin from destruction. By working to encourage travelers to visit the rainforest, we are ensuring it will be around for future generations to appreciate. Pioneering projects like Tambopata Ecolodge, established in 1991, provide the model that teaches local people the importance of conservation, by demonstrating that forests are worth more to us all when they are left to flourish.
With capacity for 70 guests, our Ecolodge is one of the smaller lodges, and that is how we intend to keep it. We believe that fewer guest numbers contribute to a more fulfilling experience and reduced negative impact upon the populations of the many animal species that abound in the surrounding forest, where we have created and manage the largest Private Conservation Area in Peru in its category.
When you visit us at Tambopata Ecolodge you are contributing to the conservation of many endangered species.